If you're of a certain generation (i.e. mine) you'll remember your mother's diary popping out on regular occasions. Making an appointment, adding a birthday, scheduling a trip, that little black book popped out every time.
This made Christmas a little easier as a new diary was always a welcome stocking-filler. But that gap before New Year always had the boring chore of transferring over dates to the new one.
I wasn't old enough to be a Yuppy myself but, wishing I was, I dragged mum into the 80s with a Filofax – the principle being the same, just her handbag became heavier.
Dads never seemed to carry a diary. Perhaps that's where the stereotype "husband forgets birthday" stems from.
All hail the smartphone!
Of course, now almost everyone has a smartphone, you'd think it would only be my mother-in-law still carrying a paper diary. But it's not.
The number of events I attend where I hear people say things like "we must meet up – I'll give you a call when I'm in front of my diary" is just weird. That and the occasional "I cannot book an appointment for you at the moment as the engineer has his diary with him" – it's the 21st century, people!
Just get a Google Calendar already.
Putting aside the fact that G Suite is my favourite email provider  (the paid for version of Gmail) anyone can get a free Google Calendar – you don't even need a Gmail address, you can use your own email account to set it up.
Then it's so easy to synchronise and share your diary, so it's always in your pocket but it's also always at the office, networking event, bus stop…
Other calendar apps are available. I just avoid being associated with them. Ok?
But surely I still need to talk to someone to make an appointment?
Nope. No longer do we need two diaries in the same room, nor two people talking to each other.
But email isn't a great place to do it either. One of you sends a list of available dates and times, the other picks up the email and cannot make them, so they email back with their dates and times. You finally find a date that matches but it's taken so long to confirm you've gone and booked someone else in.
Yay! Acuity!
This is where Acuity Scheduling comes in.
It's an app that provides a web interface to your calendar. Without the other person seeing the contents of your diary, they can see where your free slots are: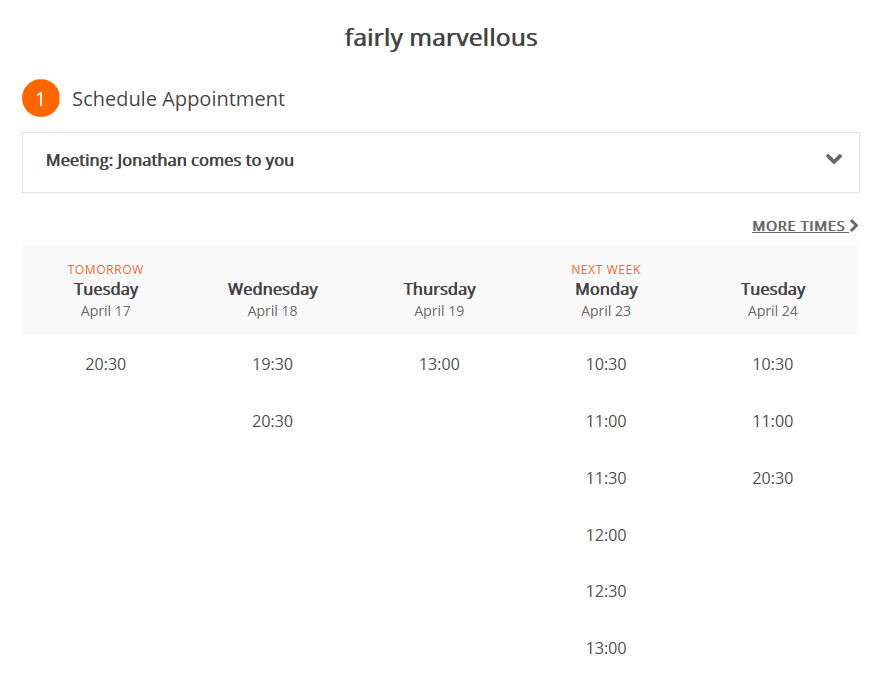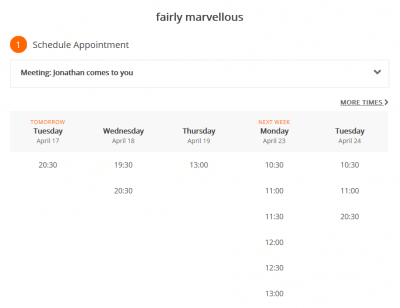 However, it's a lot cleverer than just looking for gaps in your diary. You set up rules for your different types of appointment, such as…
I can go out and see people in the morning but I prefer visitors to the office in the afternoon
If I'm going out to see someone, I want to keep an hour clear either side of the appointment – plus I want them to give me their address
I like a half hour gap to prepare before someone visits me
And more
Ok, how much?
You can get a free account and happily manage your schedule with that. In fact, I know some who use Acuity Scheduler and its mobile app as their only diary.
But some functions, like synchronising your schedule with your Google / Office 365 / iCloud calendar, sending out reminder emails, taking payment for appointments, and customising with your own colours and logo require a paid account.
At only $15 per month for the Emerging Entrepreneur option (that's the one I use) I'm sure I've saved more than enough time to make it worthwhile. Plus, I've been able to book appointments faster with potential clients, reducing the risk of losing them.
And there's more…
With a little creativity, you can put Acuity to many uses. I'm currently working on a website where it's going to be used to book river cruises on a sports motor yacht, with rules in place to give them time to restock the Prosecco between bookings!
Go on, try it!
Pop along to Acuity Scheduling to set up your free trial/account!