In this article I want to try and take away some of the mystery around search engine optimisation. There are two parts of this puzzle and we're going to start with on page SEO, although I will cover a couple of things that will help with off page.
It's quite a long article and may appear daunting – ultimately I'm going to give you a list of 7 simple things to tick off every time you write content. I just try to do a lot of explaining!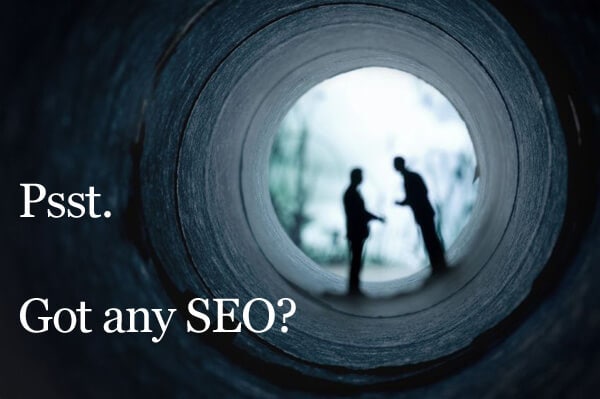 First of all, to be quite clear, this is not going to be some horribly technical exploration of all these mysterious tricks that some people use to optimise their sites. We get asked "do you do SEO?" a lot, as if it's some kind of magic, and there are lots of people out there who will happily make your money disappear while performing strange tricks.
If you are writing your content for search engines, you're doing it wrong. It may work for a while but appearing at the top of Google is neither permanent, nor will it convert your visitors to customers.
If you write for people, you will convert more customers and encourage more people to share your content. One makes you money, the other will make you rank higher for longer and encourage more visitors.
What's the difference between off page and on page SEO?
Off Page is what you do on other sites to make your website more visible. This used to be all about backlinks, as many links as you can get. And now we're seeing articles on how to improve your ranking by 'disavowing' links. The only reason that helps is because that strategy of having as many backlinks as possible was just plain wrong.
On page is about making sure you do the right things to indicate to the search engines that your content is about a particular subject. Good on page SEO is about deciding on what your keyword phrase is going to be, getting it in the right places to make it obvious, but writing the content so that people want to read it and share it.
Then, we'll cross the line slightly by making it easier for people to share more effectively, and a lot of our off page will look after itself.
Can we make this as simple as possible, please?
Ok, how about a numbered list? We all love a numbered list…
1) Pick your keyword phrase
Keyword research is a science in itself, where you'll be bamboozled with terms like long-tail, told to look at how competitive it is and investigate how often it is searched for. Most articles about keyword research turn people off pretty quickly, because most articles are aimed at people who are trying to make thousands online finding their niche.
Let's assume you're actually trying to promote your offline business, and you're not some big national brand. Let's assume you're like 99% of our clients (because our other 1% are a lot more complex!).
Forget the idea of keyword "singular" – write an article with the aim of getting to the top of Google for the word "hairdresser" isn't going to work, it is far too broad. If you're writing a page for your salon's website, you'll probably want to think more about "hairdresser in Whitstable". If you're writing a blog post, you'll be thinking more specific like "the hair chalking craze comes to Whitstable".
Another thing to forget about is "meta keywords" – another old stuffing trick and something that some, amazingly, still advise and charge for that advice. Google doesn't care about meta tag keywords, so I don't care either.
2) Put your phrase in the title of your page or post.
Bit obvious, isn't it? If you're writing about something specific then it's probably going to be the perfect title. I did say "not so big" secrets of on page SEO, didn't I?
3) Make sure the url or "permalink" of your page or post includes the phrase.
Assuming you're using WordPress (if you're not, talk to us about building your website in WordPress!) as long as your permalinks are not set to default or numeric, you'll probably be ok.
4) Write about your keyword phrase
This is the really difficult bit. But it's the bit that requires no technical knowledge, other than being able to think like a human.
Write naturally, use your own voice (or the voice of your business if that's a bit more formal) and write about your topic. Google's aim is to deliver the correct search results to people. So if people have searched for something, that's what they want to read about.
Google is getting very clever at understanding what you're writing about. Search engine optimisation is no longer about keyword stuffing – making your phrase appear over and over again. It's a very good idea to include your phrase in the first paragraph, as it reassures both the search engine and your visitor that they have come to the right place.
If people find what you write interesting and like the way you do it, they will be inclined to share and a lot more likely to become customers.
5) Use your phrase in your Meta Description
This is one place where we do get meta. But don't get too worried about the technical stuff.
The meta description is the bit that appears as a summary in the Google results – the bit that should entice your visitor. So it's important that you make it obvious what you are writing about in your description. By default, Google will take the first couple of lines of text, but you can do better than that.
For our WordPress clients, we install WordPress SEO by Yoast on their sites by default. It's great for helping with the simple and more complicated tasks for on page SEO.
Once the plugin is installed, you will see an extra box below your content and one of the fields is Meta Description. Make it interesting, snappy and relevant.
The other great thing about the plugin as it helps make your description appear as the summary text included when you share on sites like Google+ and Facebook – you're starting your off page SEO journey.
6) If you've got a long article that needs splitting into sections, use a subheading
And make sure one of your subheadings contains your phrase. Are you detecting a pattern here?
7) Pick a featured image
Here we cross the line between off and on page SEO again. When sharing links it's vital to have a good picture to make the link more interesting. And as long as your picture is relevant, the title and tags you give it will probably contain your phrase too.
Just remember to keep it natural though – "alt" tags are supposed to be to help the visually impaired. Having shared an office with a blind person, I know that keyword stuffing on images can actually lose you business!
Enough of the On Page SEO already, what about off page?
I think we've had enough of everything for now, so that's the subject of another article.
If you want to learn more, I can recommend the 30 Day SEO Challenge Ebook by Nikki Pilkington, clients have had great success with it.
Can you guess what my keyword phrase was for this article?
It was a bit obvious and a bit broad, but I'm a bit obvious and broad too.
Happy writing!