If the last couple of years has shown us anything, it's that there's no news like fake news. The Shed in Dulwich is an amazing example of how social media can be manipulated. It wasn't just the reviews that were fake, the restaurant – rated number one in London by Trip Advisor – didn't exist at all.
Oobah Butler is a writer for Vice, but before that, he used to have a nice little earner writing positive Trip Advisor reviews for restaurants in exchange for £10. Which inspired his project.
He decided to try and get a non-existent restaurant to that hallowed number one spot. He succeeded.
You can read his amazing story I Made My Shed the Top Rated Restaurant On TripAdvisor at Vice. Or, if you've got twenty minutes to spare, and fancy a laugh, watch the video below.
What can we learn from this?
I've always had a mild fascination with Trip Advisor. It democratises the role of the food critic with no qualification or filter. My favourite meal out might just be a big, dirty burger washed down with copious amounts of cheap lager, but suddenly I can have as much influence over a restaurant's potential clientele as the guy down the road who eats at Le Gavroche.
Reviews or testimonials can have a huge impact on your website. There was a time when clients would tell me they didn't want Facebook reviews because people might say bad things about them. My reply…
People are already talking about you – at least if they're doing it on your Facebook page you know about it.
So we encourage clients to have reviews on their site – that page along with the About Us page is always one of the most read. We particularly love the Smash Balloon Facebook Review plugin as it means we can automatically populate a page with a client's positive reviews, with social proof.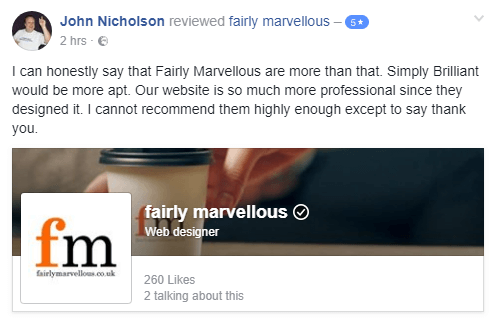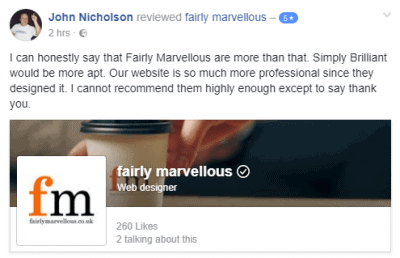 Social proof?
This is when posts on social media validate your business – they provide proof that you are good at what you do. The great thing about Facebook reviews for local businesses is, chances are, people will recognise some of your past customers. Suddenly there is no fear that your news is fake news – it's just good news.
If you'd like to find out how we can enable social proof on your website, get in touch. Meanwhile…
Sit back and enjoy…