UPDATE 25/11/15: OnPage have reached out to ask us to link over to their special OnPage & Yoast FAQ page – which we're very happy to do!
UPDATE 23/11/15: Well, Yoast SEO is now on version 3.03, so most problems should be resolved. If you're still stuck, try https://wordpress.org/support/plugin/wordpress-seo
UPDATE 18/11/15: Yoast have since released SEO version 3.01 that resolves this problem – just update as usual.
A flash new version of Yoast SEO has rolled out this morning and, for those of us who like to keep on top of updates, some will be seeing this rather surprising message:

Sounds scary, doesn't it? And to make it worse, the link doesn't go anywhere useful, just straight to Yoast's homepage.
Don't Panic
The error has been caused by Yoast adding in functionality to check your homepage with OnPage – read more here. Unfortunately, it adds the functionality but doesn't check the status when installing. So the default is you've failed the test.
On your WordPress dashboard just scroll down to find the Yoast SEO Posts Overview widget and click the button "Fetch the current status".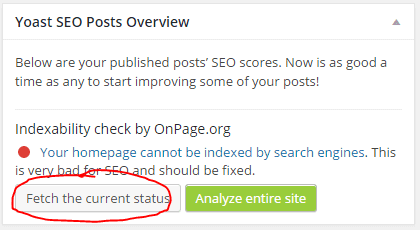 Moments later your red light should change to green and the scary little warning should disappear next time you refresh your dashboard.
Not Clever
So, nothing to worry about. But not very clever panicking all your users, Yoast!